Happy National Puppy Day
---
It's time to celebrate National Puppy Day, March 23
With our calendars already full of legal holidays and personal celebrations, what makes National Puppy Day on March 23rd so special? And what has turned it into an annual event for the past seven years?
Here is some background on National Puppy Day:
The first National Puppy Day was founded in 2006 by Pet Lifestyle Expert Colleen Paige.
National Puppy Day is supported by the Animal Miracle Foundation & Network.
The point of National Puppy Day is to educate the public about the horrors of puppy mills and spread the word to adopt abandoned puppies from shelters and rescue groups.
So what things can you do to celebrate National Puppy Day? 
If you are looking for a new furry friend, why not check out the puppies at your local animal shelter. Some New Jersey groups are listed on our Resource Page; or just Google your local Humane Society or SPCA for details. Remember, Adopt, Don't Shop!
Support any petitions to stop Puppy Mills. The Humane Society of the United States has published a number of suggestions on how you can take action, such as how to become an advocate and how to make contact with your legislators. 
Celebrate the day with your puppy. Take your puppy to the park, buy him a new toy, feed him his favorite food, or just spend some extra time with him.  Puppies require attention and training.  Give him what he needs and he will repay you with years of fun and affection.
Happy National Puppy Day!
Susan, Taurus and Gemini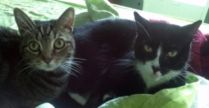 ---
---
---