Service dog placed with PTSD Veteran for Veteran's Day
---
I thought this was a nice Veteran's Day story. To coincide with this Veteran's Day in 2013, the Guardians of Rescue based in New York delivered a German Shepard to Marine Lance Corporal Ryan Rankins, a veteran suffering from post-traumatic stress disorder (PTSD).
According to the United States Department of Defense, millions of Americans are currently enlisted in the military. Of these heroic men and women, a tragic number suffer from post-traumatic stress disorder. While no cure has been found to combat PTSD, an animal rescue group called Guardians of Rescue has found a way to ease a soldier's suffering through the placement of service dogs.
"It's so tragic to see the men and women who have sacrificed everything for our country to come back and be in pain from mental wounds. The placement of service dogs in a home has proven to be a very successful method of treating PTSD," said  Robert Misseri, founder and president of Guardians of Rescue. "The dogs are rescued from shelters and trained to become service companions, to help soldiers in need by being dependable."
Their "Paws of War" program matches shelter dogs with veterans suffering from PTSD or other psychological conditions.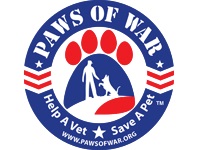 Credit: Guardians of Rescue website
Lance Corporal Ryan Rankins served in the Marines, completing a tour in Iraq and Afghanistan. He suffers from a combat injury as well as post-traumatic stress disorder and a traumatic brain injury. He is now 100% disabled and not comfortable with leaving his home where he resides with his wife and 3 young children.
According to the Center for Disease Control and Prevention, at least 1.7 million traumatic brain injuries (TBI) occur yearly. A TBI is caused by a bump, blow or jolt to the head or a penetrating head injury that disrupts the normal function of the brain. The National Institute of Mental Health defines PTSD as developing after a terrifying ordeal that involved physical harm or threat of physical harm. People who have PTSD may feel stressed or frightened, even when they're no longer in danger.
Guardians of Rescue traveled to Culpeper, VA to deliver Madeline, a one-year-old German Shepard on November 10, 2013. Madeline has been trained by Guardians of Rescue to work as a therapy dog, providing comfort and support to Lance Corporal Rankins to ease his suffering.
"I'm very much looking forward to having Madeline in our home. I think this is a great way to celebrate Veteran's Day and we can't wait for a new addition to the family," said  Lance Corporal Ryan Rankins. "We are so grateful to Guardians of Rescue for arranging this for us and for everything they do, especially concerning our military."
"This is not our first placement of a service dog with a veteran who is suffering from PTSD and we hope it won't be our last," said Misseri. "We have seen tremendous improvements and success with the veterans who have received our dogs and we hope Madeline makes a difference in Lance Corporal Rankins recovery."
Guardians of Rescue is an organization whose mission is to protect the well-being of all animals. They provide aid to animals in distress, including facilitating foster programs, rehabilitation, assisting other rescue groups, and providing support to families, both military and not, who need assistance due to economic factors.
Hope you all enjoyed this story. Giving thanks to all the Veterans and their four-legged companions today.
Susan, Taurus and Gemini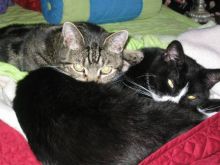 ---
---