National Animal Disaster Preparedness Day
You might be prepared for a variety of situations for yourself and your human family's needs, but are you prepared for your animal family member's needs, too? The second Saturday in May has been deemed National Animal Disaster Preparedness Day and a time to review how you would handle the animals in your life as well as the people you love should a disaster strike.
Emergencies come in many forms, from hurricanes and floods, to fires and tornadoes. These emergencies may require anything from a brief absence from your home to permanent evacuation. Each type of disaster requires different measures to keep you and your pets safe, so the best thing you can do for yourself and your pets is to be prepared. Let's review a few things you can do now to prepare:
Attach a Rescue Alert Sticker to your door
Alert stickers will let people know that pets are inside your home. Make sure it is visible to rescue workers on or near your front door. Most stickers give the option to indicate the types and number of pets in your home. Some may include a space for your veterinarian's name and number. It's been suggested to write "Evauated" across the sticker if you are forced to leave your home with your pets. Stickers can be found in pet supply stores and are often given away for free by animal rescue groups at community events and fairs.
Make sure cats and dogs are properly identified
In the event your cat or dog runs away in a chaotic moment, a secure collar with ID tag and the added feature of a microchip can ensure they are returned if and when found. Pets use their survival instincts to avoid danger and sometimes are found days or weeks later and reunited with their owners once their microchip is scanned.
Plan for alternative housing if evacuated
Please plan to take your pets with you if forced to evacuate your home. If the home environment is no longer safe for you, then it's no longer safe for your pets. Visit boarding facilities in the area and ask questions. Not all shelters accept pets in times of emergency, so it is important to check around in advance. Ask for advice from your veterinarian and local animal shelters, and inquire at local hotels/motels to find out if they are pet-friendly, especially in emergency situations.  A trusted friend or relative might even open their home to your pets in time of need, so don't hesitate to ask and make a plan.
Gather items for your pet emergency kit
In addition to an emergency kit for the humans in your household, assemble a pet emergency kit. Assume there will be no time to gather necessary pet supplies if disaster strikes quickly or state or local officials recommend evacuation. Store an emergency kit, carriers and leashes as close to an exit as possible. Make sure that everyone in the family knows how to proceed. Items to consider in your emergency kit should include:
Pet first-aid kit and guide book
A week's worth of canned or dry food (be sure to rotate every few months to avoid expiration)
Disposable litter trays and litter
Paper towels
Liquid dish soap and disinfectant
Disposable garbage bags for clean-up
Pet feeding dishes and water bowls
Extra collar or harness as well as an extra leash
Photocopies and/or USB of medical records and a waterproof container with a two-week supply of any medicine your pet requires (Remember, medications need to be rotated to avoid expiration)
A week's worth of bottled water for each person and pet (store in a cool, dry place and replace every few months)
A travel bag, crate or sturdy carrier, ideally one for each pet
Flashlight
Blanket
Recent photos of your pets (in case you are separated and need to identify)
Pet toys and chews
Considerations for Small Animals, Birds and Reptiles
Small animals, such as hamsters, gerbils, mice and guinea pigs, should be transported in secure carriers with bedding materials, food and food bowls. Keep on hand salt lick, extra water bottle, small hide box or tube, and at least a week's worth of bedding.
Birds should be transported in a secure travel cage or carrier. Keep a blanket or heavy towel handy to cover the cage in cold weather and reduce travel stress. Pack a spray bottle to periodically moisten your bird's feathers in hot weather. Leg bands are useful for identification if lost, but also pack photos as recommended above. Pack food and have a timed feeder on hand in case you must leave the bird for periods of time. Keep copies of records packed noting typical behavior and medical issues in case others help care for your bird if you cannot. Your bird emergency kit should include a catch net and cage liner.
When it comes to lizards and snakes, they can be transported in a covered enclosure or carrier. Pack a sturdy bowl that is large enough for your pet to soak in and ample supply of food. You might also need a warming device, such as heating pad or hot water bottle, to keep your pet comfortable. Prepare care and feeding instructions in the event others help look after your pet in your absence.
Learn more from the Somerset County Animal Response Team (CART)
We are lucky to have the Somerset County Animal Response Team (CART) nearby who offer their help and assistance in times of emergency.  Visit the CART website for more tips and helpful information.  Be prepared and be safe, not sorry!
Recommended Reading:
Disaster Preparedness Must Include Your Pets
Team effort provides emergency relief to animals displaced by Thomas Wildfire
Houston SPCA reunites pets with owners in Hurricane Harvey aftermath
Stay safe, friends!
Susan and Gemini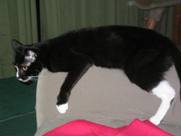 ---