Take Your Dog To Work Day Contest by Bil-Jac
I've written about the Bil-Jac brand of dog food in the past. It's a solid, family owned company that offers quality dog food products and lots of good advice for dog owners through newsletters and social media. They have launched a "Take Your Dog To Work" contest running now through May 30 where dog lovers across the country have the opportunity to win dog treats and food coupons by sharing a photo of their dog at work. It is a celebration of "National Take Your Dog To Work Day" on June 21 with a very special campaign celebrating the spirit of the American office dog.
This is a national campaign launched on May 21 open to everyone across the country.

Why are they doing this?  To honor the loyal pets everywhere, of course, and their pet parents that count on them every day with important work-related responsibilities.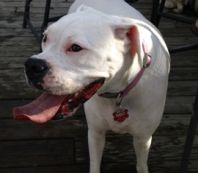 Remember, you only have through May 30 to enter, and here's how:
Snap a photo of your dog "at work" wherever that office location may be. Share your photo via Facebook, Pinterest, Twitter @BilJacDogFood or email to the the Bil-Jac website
After June 1, vote daily for your favorite "Dog at Work" picture on the Bil-Jac Pinterest Board. The Dog at Work with the most votes before June 30 wins $100 worth of Bil-Jac premium dog food and treats! To learn more about Bil-Jac dog food and treats, go to www.BilJac.com
Good luck! Can't wait to see who the lucky winner will be! 
Susan, Taurus and Gemini
---