Sixth Annual New Jersey Week for the Animals kicks off
---
Animal World USA is pleased to announce the 6th Annual New Jersey Week for the Animals will kick off Saturday, July 16, 2016 and run through Sunday, July 24, 2016. The exciting celebration will recognize the unique and life-changing role that animals play in the lives of citizens through all walks of life.
The week will be bringing together educators, animal shelters, humane organizations, sanctuaries, restaurants, businesses, students, musicians, artists, community leaders, decision makers and caring citizens in an action-packed compassionate week of community activities for the animals. Precious lives will be saved and communities transformed during this incredible week.
The New Jersey Week for the Animals will build new exciting relationships for the animals! Visit the official website for complete contact details and calendar at the New Jersey Week for the Animals website page. 
Looking forward to an exciting week!
Susan, Taurus and Gemini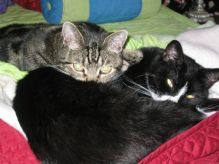 ---
Save
Save
Save