National Feral Cat Day
---
Feral Cat Day Fun Fair



As many of you know, October 16th was declared National Feral Cat Day by Alley Cat Allies. To quote from their latest post on their website "We started this day 11 years ago to raise awareness about feral cats and Trap-Neuter-Return.
Today, thousands of Americans are showing their compassion for cats at more than 345 events in communities from coast to coast! Thank you for making this the most successful National Feral Cat Day to date.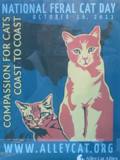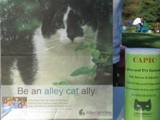 The amazing outpouring of enthusiasm, support, and compassion from around the country demonstrates loudly and clearly that Americans want humane treatment for cats. With your help, we far exceeded our goal of 250 events this year, making National Feral Cat Day 2011 the biggest in history."
This year's motto for National Feral Cat Day is "Compassion for Cats: Coast to Coast." To do our part here in New Jersey, C.A.P.I.C. and Belle Mead Animal Hospital joined together to stage a Feral Cat Fun Day on Saturday, October 15th.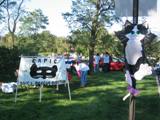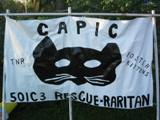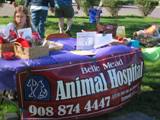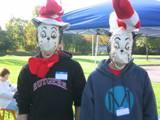 I volunteered to help with this event, and had a great time in the process from set up to finish.  Kudos to Hope Valenti and Rhonda Baginski of C.A.P.I.C. and all the C.A.P.I.C. volunteers.  Also a big thank you to Dr. Martins for his support and use of his property to stage the event.
Highlights of the day included:
Alley Cat from Rescue Ink.  Did anyone see the Rescue Ink Unleashed  reality series that premiered on September 25, 2009 on the National Geographic Channel?  The series featured a Long Island-based animal welfare organization, called Rescue Ink. The group is made up of heavily tattooed motorcycle riders who work to combat animal cruelty and rescue animals in need.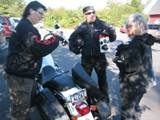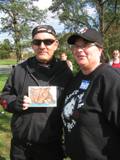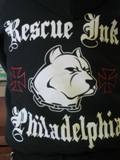 There was plenty of food, games and prize drawings, including:  Guess the Pumpkin Weight, Knock Down the Graveyard Tombstones, Guess the Number of Super Balls in the Jar, Frisbee Toss, Kerplunk!, Black Cat Ring Toss, Buzz, Mini Golf Putting Course, Story Time and Face Painting.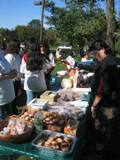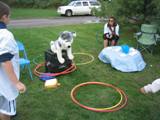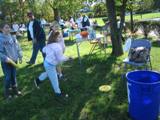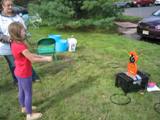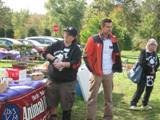 Vendors included Top Quality Pet Sitting and Reiki Paws.  CAPIC displayed their own Jewelry for sale with all proceeds benefitting CAPIC.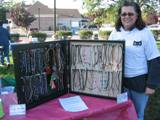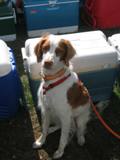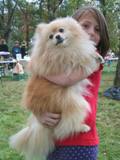 It was great to the families turn out with their children to participate in the activities and become more aware of the Feral Cat TNR efforts at the same time.  And dogs were welcome too!
Of course, there were several cats and kittens up for adoption.  Here are some photos of those brought out on Feral Cat Fun Day, and more adoptable cats and kittens been seen on the CAPIC Cats website found on our Resources page.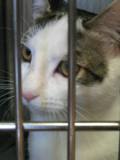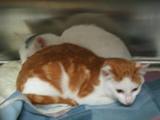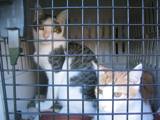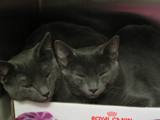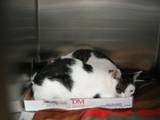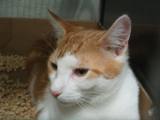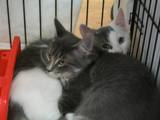 I would love to hear back from anyone who also participated in our day, and others who hosted similar events around the state and country.
Looking forward to National Feral Cat Day 2012!
Susan, Taurus and Gemini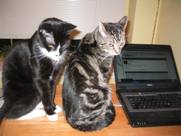 ---
Comments:
Posted by
H. Valenti
on
Oct 19th, 2011
Thanks to all the CAPIC volunteers and friends we had a wonderful Feral Cat Day event. Belle Mead Animal Hospital was the perfect venue for the day. We will be having adoption days one Saturday a month at BMAH from 1:30-5:00 pm so please spread the word. Next adoption day is Sat. Oct. 29. Please come down and find your furever friend. All of our kittens are raised in foster homes and quite friendly. All you need to do is add your love and we are all happy. Email catnabber1@yahoo.com or visit our website www.capic.webstarts.com or our petfinder page www.petfinder.com/shelter/NJ690.html
and thanks to Susan for doing this blog and volunteering.
Posted by
M. Matthews
on
Oct 19th, 2011
The Feral Cat day at Belle Mead Animal Hospital was fun and educational. I learned quite a bit about the Feral TNR and that there are many passionate cat people. I have 4 cats myself, but none feral. I always thought feral were wild and had to stay in the wild forever. But now I understand and praise all the members of CAPIC for a job well done!!!!
Posted by
Joan
on
Oct 20th, 2011
Thank you Susan for adding our Capic event to your blog and for helping out that day. I look forward to participating in National Feral Cat day 2012 also!
Posted by
Susan
on
Oct 21st, 2011
You are welcome! Happy to help!
Leave a Reply