Spotlight on Chasing Dreams pet therapy
I met an amazing woman recently who runs a mobile business based in New Jersey called Chasing Dreams. Her specialty is pet massage and photonic therapy. Not knowing a great deal about these modalities as they apply to animals myself, I decided to take a closer look and learn more about what she has to offer.
The owner's name is Cathy Sauer, a life-long competitor, trainer and breeder of horses. 
"I grew up with a love for horses and animals in general. I was a horse trainer for many years working with junior riders. I also showed my dogs in obedience training.  During the past 10 years I bred Quarter Horses for Reining Cow, Working Cow and Cutting."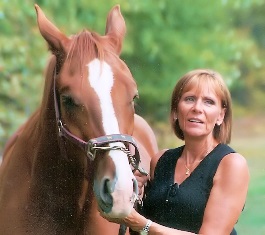 Credit: Chasing Dreams, LLC
During Cathy's competitive years with her animals, she noticed the wear and tear on their bodies, similar to humans as we age and are subject to stress.  She began to search for ways to help improve and maintain the health and well-being of her animals in addition to traditional veterinary medicine.
"I became a certified animal massage therapist because I found that massage for the pleasure horse or dog that does not compete has enhanced their lives in so many ways. The benefits they reap are many and can help an older dog or horse with mobility issues as well as many other problems."
Cathy has since branched out to treat a variety of animals including cats, goats, cows, llamas and alpacas.  She is now also being trained in Reiki and constantly takes courses about animals to understand the internal organs better.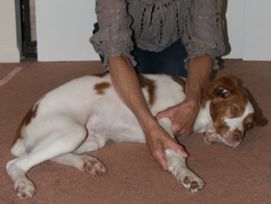 Credit: Chasing Dreams, LLC
"This helps me understand why certain things happen to them, and how I can help alleviate any pain or discomfort associated with the problem they may be dealing with," said Cathy.  "I also need to understand when I should suggest that my client consult with a veterinarian if I notice a particular problem that I think requires veterinarian care."
Cathy's other specialty is Photonic therapy. This is an advanced form of traditional complementary medicine using light to stimulate recognized acupuncture points where no needles are used. It involves safe, low frequency red light (not laser) which supports the healing of conditions and injuries in animals. Photonic therapy is a more advanced method of acupuncture that is painless, safe and effective.
If you are interested in learning more about Chasing Dreams and booking a therapy session for your pet, Cathy can be contacted through her website here.  You can also find Chasing Dreams on Facebook.
Meet Cathy in person! 
"On July 23rd, Chasing Dreams, LLC will be at the Somerset Patriots Ballpark for their Bark in the Park event.  Come stop by my table and learn more about me and my company.  Don't forget to bring your dog and have a fun night watching a great team play. Please watch for the flyers in a store near you for more information about the night."
Sounds like fun to me!  Hope to see you at Bark in the Park with Cathy!
Susan, Taurus and Gemini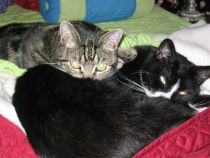 This is a compensated interview by Gemini Universal.
---