Let's celebrate National Ferret Day!
---
Ferrets are so much loved in the U.K., they enjoy their own holiday. The purpose of National Ferret Day is to ensure issues such as welfare, care, nutrition, and ownership are all highlighted in a positive way and educate the public to respect ferrets everywhere. The Ferret Education & Research Trust is the founding charity behind National Ferret Day in the UK.
Ferrets are very intelligent creatures and make wonderful pets. With a lifespan of about six to nine years, a ferret can provide many years of companionship and fun. A healthy ferret enjoys play time and can be taught many things. However, there are a few health concerns to look out for, and regular veterinary care is a must.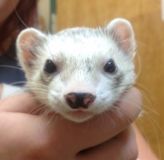 Photo courtesy Belle Mead Animal Hospital
Happy National Ferret Day!
Susan, Taurus and Gemini

---
---
---