Home
Gemini's Blog
Veteran celebrates his birthday on July Fourth with gift of a Service Dog
by: Susan Stokes
Veteran celebrates his birthday on July Fourth with gift of a Service Dog
---
I wanted to share this nice Independence Day story. Medically retired Marine Corps veteran Sgt. Ryan Jamison Matthew Holiday is about to get a gift that comes with life-changing possibilities. Thanks to Guardians of Rescue (GOR), this veteran who is suffering from post-traumatic stress disorder (PTSD) will be given a service dog. The best part is he will receive it on his favorite holiday that just so happens to coincide with his birthday - the Fourth of July.
GOR reports that the dog will be delivered to Sgt. Holiday in Cedarburg, Wisconsin on Independence Day. After serving 10 months in Iraq in 2009, Sgt. Holiday was medically retired. He has been seeking treatment that can help him overcome his medical conditions and be able to live a more normal lifestyle. The dog will play an important role in helping him to overcome not only the PTSD he suffers from but also his depression.
In their recent press release, Dori Scofield, vice president of Guardians of Rescue, had this to say:
"Our Paws of War program is doubly rewarded as we are proud to help both ends of the leash begin a new journey together. This is a small gift that will have a major impact on the life of this well-respected veteran." 
Sgt. Holiday served in the Marine Corps for six years and won numerous medals, including the National Defense Ribbon, Operation Iraqi Freedom Medal, Good Conduct Medal, Navy and Marine Corps Achievement Medal, Sea Service Deployment Ribbon, War on Terrorism Service Medal, and a Navy Unit Commendation Medal. He spent January 2009 to October 2009 serving in Iraq. Once he returned home he experienced problems that led to his diagnosis with PTSD.
"I am really looking forward to everything that my new service dog can provide me and help me with along my travels in life," said Holiday. "I am excited that Guardians of Rescue have chosen me to give the gift of the service dog. This is a great gesture and program that they have."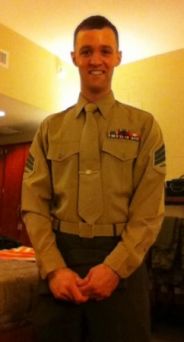 Credit: Guardians of Rescue

Holiday's father was also a veteran who served in Vietnam and suffered from PTSD and depression. Despite his father's attempts over the years to get help, conditions didn't improve and he ended up committing suicide, which prompted Ryan to enter the military in his honor.
PTSD is common among veterans, so much so that it is estimated that around 400,000 of them currently experience it. The U.S. Department of Veteran Affairs reports that the average PTSD rate for all adults is 6.8 percent. Yet for veterans it ranges from 12-31 percent, depending on their service. For example, the PTSD rate for those who served in Vietnam is 31 percent, while for those who served in Iraq and Afghanistan it is 14 percent.
Animal therapy is an effective treatment method used for PTSD. Guardians of Rescue established a program where they pair veterans with trained service dogs that serve an animal therapy role. Being an animal lover, Sgt. Holiday plans to earn a degree that will allow him to work as an animal veterinarian technician.
Guardians of Rescue is an organization based in New York whose mission is to protect the well-being of all animals. They provide aid to animals in distress, including facilitating foster programs, rehabilitation, assisting other rescue groups, and providing support to families, both military and not, who need assistance due to economic factors. To learn more about Guardians of Rescue, visit the organization's website.
Happy Birthday Sgt. Holiday!
Susan, Taurus and Gemini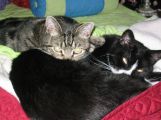 ---
---