A Christmas appeal from Mdzananda Animal Clinic
---
It is my pleasure to share with you the Mdzananda Animal Clinic's story of unconditional love this holiday season. This is their Christmas appeal so please read on. I hope this warms your heart as much as it did mine.
The festive season is a very difficult time for the Mdzananda Animal Clinic as they report many pets are simply handed over to them for care. It's with public support that they can continue to treat and look after so many more animals. Here is just one case – the story of young Mommy Cat and her unconditional love as told by Marcelle du Plessis, Fundraising and Communications Manager, Mdzananda Animal Clinic.
12 Kittens for the 12 days of Christmas
On the first day of Christmas my true love gave to me…
A kitten, a kitten, and more little kittens…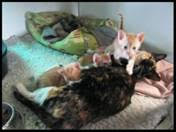 credit: Mdzananda Animal Clinic

Young Mommy Cat was brought to the Mdzananda Animal Clinic in early September 2015. Her owner brought her with great concern - something was wrong with her cat as she had progressively become larger and larger. Mommy Cat was admitted to the Mdzananda cat ward where her growing tummy gave birth to five little kittens.
Mommy Cat, who was a baby herself and only six months old, adored her five kittens. Every day they snuggled up to her, clawed at her belly as they drank and she licked them clean with great love. But Mommy Cat had more love to give - two ginger kittens, each only two weeks old, were brought to Mdzananda a week later. Their mother had disappeared and their human owner did not know how to feed them. Mommy Cat came to the rescue and adopted both these little kittens as her own. Her two surrogate babies were cared for and loved as much as her own.
As time went by Mommy Cat's seven kittens grew older and people came to visit them to adopt them. As each one left with their new families, Mommy Cat waved them goodbye. Then her last little kitten was taken to her new home and Mommy Cat was left alone.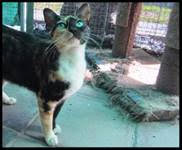 credit: Mdzananda Animal Clinic
A few days passed, and then one morning a boy came to Mdzananda carrying a cooking pot. Inside the cooking pot were five little kittens. Their mom had passed away and he needed help. Mommy Cat heard the sound of kittens squealing and quickly opened up her heart to them. She adopted all five little kittens as her own once again.
These little kittens stayed with Mommy Cat in her cat ward and are now ready for their forever homes. Our biggest wish was that dear loving young Mommy would find a forever home where she could be loved by a human family and shown the unconditional love that she showed to twelve little kittens. We are overjoyed that a loving family adopted Mommy Cat and one of her surrogate kittens last week. Thank you for all the love you showed twelve kittens Mommy Cat. We wish you a wonderful, happy life of love! We will make sure that your kittens find good homes.
But the story doesn't end there, says Marcelle du Plessis:
The maternal instinct that young Mommy Cat feels for any kitten is the way we feel about each little pet that comes through the front doors of the Mdzananda Animal Clinic. We pride ourselves in not just providing routine treatment, but treating each pet for its individual needs, providing the best love, care and medical practices we can. Our vets and animal welfare assistants work tirelessly to help each little animal. It is not uncommon to find our vets spending three hours on a special, tough orthopaedic operation for one pet in dire need - now that's dedication!
The Mdzananda Animal Clinic is a veterinary council registered, NPO animal clinic in Khayelitsha, a township which is home to over 400,000 people (census 2011). We serve their animals at a very low cost. Many people may think that people from townships should not have pets – we have a different opinion. We see hundreds of community members bringing their beloved pets to receive help. Some walk many kilometres to bring their pets to Mdzananda. Some find creative ways to transport their hurt pets as they do not have access to transport. We see pets arriving in wheel burrows, prams, shopping carts and even carried on wooden planks on strong shoulders. At Mdzananda we can treat up to 1,000 pets per month. We also educate the owners about better ways of looking after their pets and becoming responsible pet owners.
Christmas and end of year is a difficult time at the Mdzananda Animal Clinic. Most of the community members go to the Eastern Cape to visit their family leaving their animals behind with friends. Very regularly these friends do not know how to look after animals. Their homes are not always equipped for animals - they get out of the yard, end up in dog fights or get hit by vehicles. We receive many animals that have fallen sick due to insufficient nutrition or non pet friendly living conditions. Many community members also hand over their pets to Mdzananda during this time. We need to cover all their costs of these little pets.
The festive season is a time of joy and we aim to ensure that all the animals in Khayelitsha stay healthy and happy. The work of Mdzananda is mainly supported by donations and gifts. Through this letter I would like to ask you to consider making a gift to the Mdzananda Animal Clinic over this festive season. Any gift, big or small, is greatly appreciated. Even if you think it will not be much, you will be amazed at how a small amount can change the lives of animals in need. Mommy Cat sends out a big PURRR, hoping that you hear her asking too.
The Mdzananda Animal Clinic banking details are Mdzananda Animal Clinic, Standard Bank, Account number: 075595710, Branch: Rondebosch, Branch Code: 025009, Reference: MommyCat+Your Name.
Thank you for taking the time to consider my request.
With sincere gratitude (and wags!)
Marcelle du Plessis, Mdzananda Animal Clinic
The Mdzananda Animal Clinic is a permanent, veterinary council registered animal clinic in Khayelitsha, a township just outside of Cape Town, South Africa. The clinic provides primary veterinary healthcare services including consultations, hospitalization, general and orthopaedic surgeries, mobile clinics, an animal ambulance, animal welfare services and animal adoptions. Their patients are primarily dogs and cats. The clinic has a strong focus on community empowerment and education to ensure responsible pet ownership into the future. It is also referred to as "The Happy Clinic" by clients and supporters. The Mdzananda Animal Clinic is made possible by IFAW (International Fund of Animal Welfare) since 2003, Investec since 2015, and individual donors and supporters.
We shared this message from Marcelle with the hope that more animals around the world can be saved and to shed additional light on the good work that animal caretakers provide. Thank you for reading,
Susan, Taurus and Gemini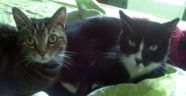 ---