Home
Gemini's Blog
Birds of Prey – A Presentation by The Delaware Valley Raptor Center
Birds of Prey – A Presentation by The Delaware Valley Raptor Center
Duke Farms in New Jersey offers excellent educational programs. Most recently I had the opportunity to attend an hour-long presentation about Birds of Prey. The presenter was from the Delaware Valley Raptor Center (DVRC) who brought live rescued birds to showcase while educating the audience about the bird species and its habits and characteristics. Following are some takeaways.
We were introduced to Mojo the Saw-whet Owl, the third smallest owl in North America.  Mojo was rescued by a caring couple after being hit by a car.  He can no longer see out of one eye.  They typically reside in the deep woods and are not often seen.
We learned about American Falcons who live on every continent except Antarctica.  Many of them were wiped out by DDT which was banned in the U.S. by 1972.  The presenter explained the many types of Falcons that exist.  He brought along Sophia, a ten year old Falcon. Females dominate the males.  Falcons can kill three times their size. They prefer to nest near water.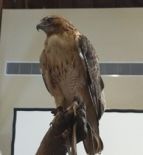 We met Bentley the Barred Owl. Barred Owls are one of the four species of owls with dark eyes. He was also hit by a car which resulted in blindness in one eye.
We met Harley the Great Horned Owl. He was found in a state of starvation due to an injury and nursed back to health at the DVRC. These owls are very noisy in order to establish territory and to mate. They make the hooting sound we associate with owls. They pant in order to cool off.

Above is just a sampling of what we learned during the presentation. Visit our Gemini Universal Facebook page to see many more photos of the actual birds showcased.
We were so impressed, we decided to make the Delaware Valley Raptor Center our "Current Cause."  Adopt a Rescued Bird that is undergoing treatment or one of the Center's permanent residents. Your tax deductible adoption contribution will help cover the cost of treatment, rehabilitation, housing, and food for the bird you sponsor.  Learn more here: Delaware Valley Raptor Center (DVRC) Adoption Program.   Be sure to visit their website and adopt a bird if you feel inspired to help out!
Thanks for caring!
Susan, Taurus and Gemini
---
Recommended Reading:
An Important Message for January Adopt a Rescued Bird Month
I Found Love at the Super Pet Expo
Rest in Peace That Guy With The Birds
Let's Celebrate National Bird Day!
Birds Require Specialized Veterinary Care
---