Celebrating National Therapy Animal Day
---
Pet Partners is the nation's largest and most prestigious nonprofit registering handlers of multiple species as volunteer teams providing animal-assisted interventions. In honor of National Therapy Animal Day on April 30, they have released some educational facts about animal therapy and the services they provide, and they are offering a limited run of special T-shirts to commemorate the occasion. Read and learn more!
Pet Partners see therapy animal programs growing throughout the United States with more healthcare and educational professionals realizing the benefits that therapy animal teams bring to their facilities. From the health benefits of lower blood pressure and the release of oxytocin, to helping with circulation through petting and walking an animal, to just raising a smile for someone having a tough time, Pet Partners say therapy animals are contributing more than ever to their communities. Following are some facts Pet Partners wants you to be aware of:
Pet Partners currently has 9 species of animals registered.These include dogs, cats, llamas/alpacas, mini-horses, pigs, guinea pigs, birds, rabbits and even domesticated rats!
   
Dogs are the most popular animal used for therapy visits.
There are 14,000 teams of therapy animals and handlers in 50 states.
Pet Partners teams make 1 million visits per year across the country, and hospitals are the most popular facility to visit followed closely by senior or assisted living.
Interested in becoming a volunteer for Pet Partners? They have had as many as 484 people registered for the Pet Partners monthly webinar to date!
Bella is the most popular name for a therapy dog.
Coco is the most popular name for a therapy cat.
To commemorate National Therapy Animal Day, Pet Partners is launching a limited run of their "Have You Met My Therapist" T-shirts and hoodies. There are 3 styles available with dog, cat and horse variations. You can see the T-shirts and learn  how to get involved by visiting the Pet Partners website.
Happy National Therapy Animal Day!
Susan, Taurus and Gemini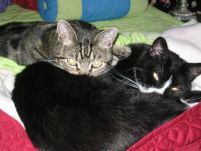 ---
---