Feral cats survive fire at Jersey Shore boardwalk
---
On September 12, 2013 a fast-moving fire broke out at the boardwalk in Seaside Park, New Jersey, destroying much of the boardwalk and spreading to Seaside Heights. In addition to the businesses lost and the people thrown into turmoil, the lives of the boardwalk feral cats were put at risk.
Just one week earlier, Alley Cat Allies announced in their press release their partnership with Seaside Heights Animal Welfare Group (SSHAWG) to institute a Trap-Neuter-Return program for the cats at the Seaside Heights boardwalk.  They immediately stepped up communication with SSHAWG and other groups to make sure the cats at the boardwalk were safe.
By the morning of September 13, all the cats at Seaside Heights had been accounted for. Members of SSHAWG will continue to check on the cats regularly with the assistance of Alley Cat Allies behind them.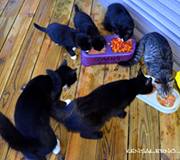 Credit: SSHAWG / Facebook page
The Jersey Shore only last year suffered through the onslaught of Hurricane Sandy in October of 2012.  Back then, Alley Cat Allies and rescue groups too numerous to name stepped up all their efforts to help the animals, household pets and feral, who whose lives were compromised. Find out more about the Seaside Heights Animal Welfare Group and the condition of the feral cats on Facebook. To learn more about Alley Cat Allies, visit their website.
Stay safe.
Susan, Taurus and Gemini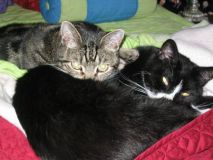 ---
---