Special Workshop for Animal Lovers and aspiring Authors!
Calling all writers and aspiring authors! A workshop designed to help you break into the Animal Book field is scheduled for Saturday, April 28, 2018. By The Book - Animal Writers' Workshop will take place at the Oldwick Manor, Oldwick, New Jersey, from 8:30 a.m. to 12:30 p.m.
The workshop will feature how to write both adult and children's literature, fiction and nonfiction. You will learn from a panel discussion with publishing experts including Q&A. You will also follow one woman's journey to becoming a published children's book author and discover the various publishing options available from traditional to self-publishing.
Workshop Schedule:
8:30-9:30 a.m.                 
Registration, Light Breakfast, Authors' Alley Book Signings
9:30-11:30 a.m.             
Panel Discussion and Q&A Session with Publishing Experts
11:30 a.m.-1:30 p.m. (Update: Now Open to Public Free of Charge!)    
Authors' Alley Book Signings
Register Now!
The workshop is being organized by J. Pace Publications with a fee of $65.00 per person. (Update) Pre-register by April 25, 2018 either online here or by mailing a check payable to J. Pace Publications, P.O. Box 301, Califon, NJ 07830.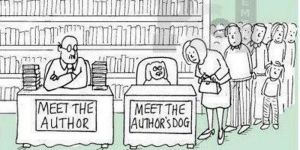 About the Organizer
Loren Spiotta-DiMare, owner J. Pace Publications, is an established author who has been writing about her favorite subject, animals, for over 40 years. To date, she's had 20 books published with more on the way for both adults and children. Her books include reference, coffee table, picture, and chapter books. Learn more about the author and her books at www.LorensReadingRoom.com
Please email the organizer direct at Author@LorensReadingRoom.com if you have more questions.
Hope to see you at the workshop!
Susan, Taurus and Gemini
---
---