Wearable pet technology benefits animal welfare groups
New pet wearable technology by Poof called the Pea and the Bean monitors your pet's activity, rest, food intake and calories burned, 24/7. It even compares your pet to other pets using Poof. The devices were made with pets in mind because Poof says they are super light, comfortable and waterproof.
Poof boasts in their latest press release that the Pea and the Bean are the smallest and most lightweight pet activity trackers on the market. The Pea weighs in at .25 oz. and is about the size of a quarter (1 inch). It utilizes a replaceable coin cell battery, which is able to provide a long battery life of six months - the longest battery life of any pet tracker available today. The Bean weighs in at just .12 ounce and is about the size of a pill.  Its rechargeable battery lasts up to two months on a single charge, far surpassing the average tracker's cycle of 7-10 days per charge.
Richard Xu, Head of Technology for Poof, had this to say in their press release:
"The advent of wearable technology has given us humans the ability to live healthier, more productive lives, so why not give those same technological benefits to our furry family members? Pets can't verbalize when they're not feeling well or getting enough exercise. Now they have a voice."
Both devices pair with the free Poof app (Android/iOS). The easy to use app displays the data that the device gathers, including daily activity, rest, food intake, and calories burned. Users can also share photos and comments via the pet-centric social network. Over time, the app tracks progress and trends in your pet's exercise regimen and makes recommendations on food servings and activity for optimum health.
Some of the perks that come with the Pea and the Bean include:
No monthly membership fee
Unlimited number of pets per user
Variety of wear options
Assorted colors
Pet-centric social network
Extensive pet food database
Local shelter list
Lost Pet poster generator
One hundred percent of proceeds from Poof products will go to GreaterGood.org, a national organization that works directly with animal welfare groups across the country to help place pets in their forever home.
Did you run out and buy a Pea or Bean after reading this story? Come back and tell us how you like it in our Comments section!  Continue reading about the Benefits of Smart Technology to Monitor Pets! 
Susan, Taurus and Gemini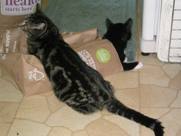 ---
---