Meet Kitten Lady – a true crusader for neonatal kittens
There is a woman in Washington, D.C. named Hannah Shaw who has made it her goal to change the world for neonatal kittens. Known as Kitten Lady, she has launched a nonprofit on behalf of kittens in need after her own nickname.
Hannah Shaw is no stranger to the world of animal advocacy. As a nonprofit director with over a decade of experience in the animal protection field, Shaw has rescued hundreds of neonatal kittens, directed successful national programs, and trained dozens of shelters and advocates about innovative approaches to the protection of felines. Shaw is also known for her involvement in the charitable project Rock to the Rescue, which she runs with her father, Tommy Shaw of the rock band Styx. Shaw's personal mission is to create a global change in the way we perceive and treat animals, especially neonatal kittens. 
Neonatal kittens are those under 8 weeks of age. According to the Kitten Lady's recent press release, orphaned neonatal kittens are considered one of the most underserved populations by the U.S. shelter system. Due to lack of training and time demands of staff and/or volunteers, most shelters kill unweaned orphaned kittens upon entering an animal shelter. It is Shaw's personal mission, and the mission of the Kitten Lady project, to change those statistics.
Kitten Lady seeks to advance protections for these vulnerable felines by providing advocacy tools, educational media, workshops and consultation to individuals and organizations. Kitten Lady provides rescue to neonatal kittens in the Washington, D.C. area, and showcases their stories through social media. Shaw documents the kittens' lives and their care via photography and video, and Kitten Lady is now a project of Photographers for Animals, a nonprofit founded to promote animal issues and to help organizations utilize opportunities for photography and film.
Through Kitten Lady, Shaw educates others about how they can help foster orphaned kittens themselves. To learn more about Kitten Lady and discover how you can become an orphaned kitten foster, visit the Kitten Lady website.
Susan, Taurus and Gemini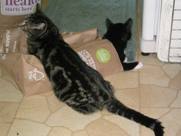 ---
As published on Examiner.com

---
Save
Save
Save
Save
Save
---