Home
Gemini's Blog
A day of remembrance - National Pet Memorial Day falls on September 11 this year
A day of remembrance - National Pet Memorial Day falls on September 11 this year
This year National Pet Memorial Day, the second Sunday of September, falls on September 11. And so we give special remembrance to the 9/11 first responders for their bravery and heroism, including the fearless search and rescue dogs and their handlers.
The American Veterinary Medical Association (AVMA) posted the following on their Facebook page today, and we found the accompanying story such a nice distraction from the sadness of remembering those who have passed on. 
"There is much sadness today as people remember 9/11 and honor the lives lost, as well as those who performed heroic measures during the rescue and response efforts. Bretagne, the last of the 9/11 dogs, died this year. But there is life, too, for the survivors - including Cody, who was reportedly abandoned at Ground Zero in the chaos but found her way to a loving home."
Cody's story follows:
Fifteen years ago, the United States was rocked by an unthinkable attack on September 11th. For Cody the dog, that terrifying day seems like a hundred years ago, but she still remembers. - Continue reading here:

Going Strong: 9/11 Dog Rescued from Ground Zero Is 17 and Still Thriving
With love on this special day of remembrance,
Susan, Taurus and Gemini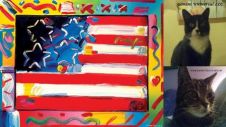 ---
---