Lennox, Rest in Peace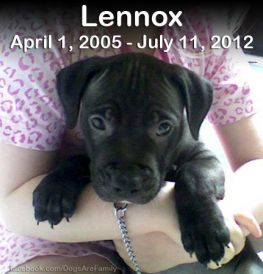 Credit: Facebook
UPDATE July 11, 10:45am: Lennox was euthanized Wednesday morning in Belfast. The primary issues raised by Lennox's case involve breed-specific legislation and the question of whether all pit-bull type dogs should be considered dangerous (a generalization I find to be wrong, and dangerous itself). As this article and many others suggest, however, Lennox only resembled a pit-bull-type dog and was in fact a cross between a bulldog and a labrador.
Tuesday night's original post:
A dog named Lennox apparently has only hours left before being euthanized in Belfast, Northern Ireland.
Lennox is neither homeless (a fate that shouldn't amount to a death sentence) nor proven dangerous. He's slated to be killed by the Belfast City Council because he's a pit-bull type dog.
The story of Lennox, and of the mounting international outcry over his impending fate, can be read at the BBC.
"I know some people will say, why all the energy and tears spent on one dog? Human beings are suffering in wars, famine, and poverty; dogs and cats are euthanized in sad numbers every day.
Once in a while, along comes an animal whose situation touches us uniquely. Lennox was taken from his home two years ago, those who argue on his behalf have lost all court appeals, and he is scheduled to die because of human assumptions —- about his breed, and about the behavior of the breed he's thought to be. To many thousands of people, his scheduled death seems cruel and unnecessary (credible offers of adoption have come in on his behalf)."
As the Washington Post notes, his family "argues that 7-year-old Lennox is not even a bit bull, has never attacked anyone and could be resettled outside Northern Ireland rather than be killed. His case attracted worldwide attention through dedicated Web sites, an online petition and social media campaign and spurred protests in Belfast and New York."
"Lennox isn't a symbol; he is a flesh and blood dog who is loved, and who has his own needs and desires. I hope, given how attuned dogs may be to what goes on around them, Lennox somehow knows how many people are standing up for him."
In closing, my heart goes out to the family who fought so hard to keep Lennox safe.  I believe that this issue will not rest.  Be the Change.  What if the next "Lennox" is YOUR dog?
Susan, Gemini and Taurus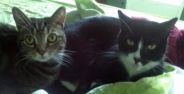 ---
---