Home
Gemini's Blog
Blind dog Stevie spreads smiles from Cape Town's Happy Clinic
By: Susan Stokes
Blind dog Stevie spreads smiles from Cape Town's Happy Clinic
---
Stevie is a blind dog taken in by the Mdzananda Animal Clinic in Cape Town, South Africa, home to more than 1.6 million people and their animals. He is in need of a new forever home, and what follows is his story as reported by Marcelle van Zyl, fundraising and communications manager for the Mdzananda Animal Clinic, otherwise known as "The Happy Clinic" by clients and supporters.
Just over a month ago a man from the Khayelitsha community brought his dog to the Mdzananda Animal Clinic for a check-up. His dog was bumping into things, and he was concerned that his dog might be blind. Upon examination, it was found that his dog indeed was blind.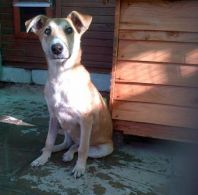 The man asked the Mdzananda Animal Clinic if they could look after his dog and find him a good home. He did not feel that he was be able to keep him safe. His yard had no surrounding gate and his family members often left doors open. With him not being home during the day due to a full time job, he was worried that his dog would waunder out and get hit by a passing car.
Mdzananda took the dog in.
"Stevie, as we have called him, is just under a year old and still has a complete puppy nature. He has been with us for just over a month," reported Marcelle. "You would never say that Stevie is blind. He runs around, is extremely inquisitive, plays with other dogs, and absolutely loves receiving cuddles from humans."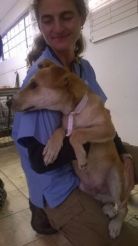 Stevie easily finds his way around by smelling his way or following sounds. His favorite thing is when he finds someone's foot. He then jumps for joy and tries to climb onto the person's lap.
"He just wants to give and receive love and play, play, play," continued Marcelle.
Marcelle believes Stevie can teach so many people a wonderful lesson. This young dog has a zest for life like no other. He is inquisitive and excited to learn. He is full of love and adores playing with dogs and humans alike. He loves every moment of his life despite his disability.
"Many humans can learn from this little dog. We as humans so often focus on our problems. Sometimes the smallest problems seem impossible to get through. I personally take inspiration from this little dog and the amazing way he takes on life with such joy and enthusiasm," said Marcelle.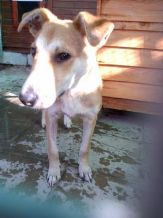 Stevie is now looking for his forever home. He will need a home where he is treated as any other young dog would be treated, but special care will be needed to ensure that he does not escape from open gates or fall into swimming pools. Stevie is a bundle of joy full of love for the right individual(s).
The Mdzananda Animal Clinic is the only permanent, veterinary council registered animal clinic in Khayelitsha, a township just outside of Cape Town, South Africa. The clinic provides primary veterinary healthcare services including consultations, hospitalization, general and orthopaedic surgeries and mobile clinics. Their clients are primarily dogs and cats. The clinic has a strong focus on community empowerment and education to ensure responsible pet ownership into the future.
The Mdzananda Animal Clinic is made possible by IFAW (International Fund of Animal Welfare) since 2003, Dogs Trust UK since 2012 and individual donors and supporters.
Can you help Stevie find his forever home?
Susan, Taurus and Gemini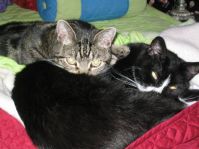 ---