Disaster Preparedness Must Include Your Pets
Sometimes you have ample warning, and sometimes you have little time to prepare yourself and those you love (including your pets) for emergency and disaster relief. Disasters can take many forms: floods, hurricanes, frigid winter temperatures, overwhelming snow storms, nor'easters, fires, explosions. How many more ways can I name?  It's imperative you have a plan for yourself and your loved ones. And remember, pets are family, so please take them into consideration. Your livestock deserve consideration too. Following are some steps you can take for your pets.
The American Veterinary Medical Foundation (AVMF) offers the following advice:
Should you have to evacuate, plan to take your pets with you
All pets should have a collar and tag or be identifiable through an up-to-date microchip or tattoo
Have an ample supply of food, bottled water and any medications handy for a quick evacuation
Keep a photo of your pet(s) and a physical description in case they become lost
Prepare at home with the following:
A leash, collar and/or harness for each pet
A collapsible cage for each pet that includes owner identification and proper bedding
A litter pan for cats along with a scoop
Food, water, medications and feeding bowls
Veterinary records
First aid kit
And don't forget a can opener for canned food you pack!
Although not collapsible, I have learned to leave my pet carriers out 24/7 because they often use them for resting and sleeping. Therefore, when it is time to put them in their carriers for a specific purpose, they go in readily and without stress.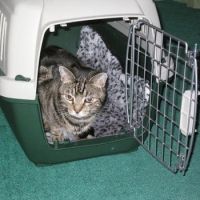 Pet owners should identify in advance an evacuation meeting site should family members become separated. You can visit  www.myveterinarian.com to find veterinary medical and boarding services that may be necessary in an emergency located in your physical area.
The AVMF sponsors the American Veterinary Medical Assistance Teams, which provide on the ground help in larger disasters and which have trained animal disaster response teams in states affected by disasters.  If you want to know more about the disaster relief that the AVMF offers to veterinarians, visit www.avmf.org.
Recommended Reading:
Waiting for Hurricane Sandy to Arrive
Stay safe everyone and plan ahead!
Susan, Taurus and Gemini
---
---