Let's celebrate National Ferret Day!
---
Today is National Ferret Day! The purpose of National Ferret Day is to ensure issues such as welfare, care, nutrition, and ownership are all highlighted in a positive way and educate the public to respect ferrets everywhere. The Ferret Education & Research Trust is the founding charity behind National Ferret Day in the UK.
Ferrets are very intelligent creatures and make wonderful pets. With a lifespan of about six to nine years, a ferret can provide many years of companionship and fun. A healthy ferret enjoys play time and can be taught many things. However, there are a few health concerns to look out for, and regular veterinary care is a must.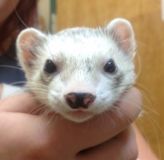 Photo courtesy Belle Mead Animal Hospital
Learn more why regular veterinary care is essential for these cute exotic pets.
Happy National Ferret Day!
Susan, Taurus and Gemini
---
---
---