All Dogs Are Individuals
---
The Animal Farm Foundation published a really neat infographic about dogs recently that they offered to share. They are located in Dutchess County, New York, and have been working nationally to secure equal treatment and opportunity for pit bulls since 1985. Their programs and services include an animal shelter, free internships for animal welfare professionals, educational resources, and grant opportunities. All their programs are designed to support pit bulls and the organizations working on their behalf.
Learn more about the foundation on their website, and be sure to click on the infographic to view it in its entirety.
Thanks for viewing, and we hope you learned something here.
Susan, Taurus and Gemini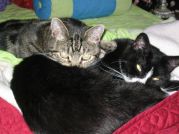 ---
---
---