Grab Feedback Review Management Program
Grab Feedback is an automated way to ask and remind customers to share their positive experience with your business online and helps you manage poor reviews at the same time. Businesses can and should use positive reviews as a marketing channel. Here's why: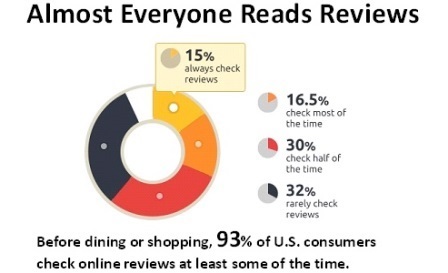 Source: "Poll: 93% of Respondents Check Reviews Before Dining or Shopping." Street Fight, 2012; Available from: http://streetfightmag.com/2012/09/05/poll-93-of-respondents-check-reviews-before-dining-or-shopping/.
---
Grab Feedback encourages customers to write a Review using popular online Review sites including Google+ and Facebook. Grab Feedback makes it easy for happy customers to post a good review. It also helps you identify unhappy customers so the situation can be remedied.
Ask us for a personal, no obligation demo of Grab Feedback. Small monthly fee, no contracts, big results! Write to: Info@GeminiUniversal.com
Learn more! Watch this short video presentation about Grab Feedback:
---
---
Gemini Universal LLC acts as Sales Representative for Grab Feedback, an automated online Review program offered by Dave's Computers, Inc.
---