Celebrate National Puppy Day - Adopt, Don't Shop!
National Puppy Day is March 23 – a day meant to educate the public about the horrors of puppy mills and encourage folks to adopt abandoned puppies from shelters and rescue groups.  National Puppy Day was founded by Colleen Paige, pet lifestyle expert, back in 2006 and has gained in popularity ever since. This year I want to introduce you to my friend, Mary Nielsen, founder of MySweetPuppy.net who has some important tips to share about National Puppy Day and the importance of adopting your new best friend.
We hope this informative infographic has inspired you to Adopt, Not Shop and take appropriate steps to give that new puppy a loving home and opportunity for a healthy lifestyle. Visit MySweetPuppy.net for more tips on puppy care.  And please share! 
Happy National Puppy Day!
Susan, Taurus and Gemini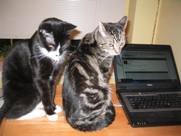 ---
Recommended Reading:
Dog Training Advice from Joel Silverman
Veterinarian offers dog training tips
Benefits of smart technology to monitor pets
---